About the class
Go into the Spring/Summer Season of entertaining armed with some delicious canape ideas. During this hands-on class, Wanitha Tanasingam will show you how easy it is to prepare small mouthfuls of food for your party guests that are easy to prepare, sophisticated and packed full of flavour.
The Menu
Chilli Garlic Kingfish Ceviche on toasted sourdough croutons
Crab Cakes with Chipotle Mayonnaise
Moroccan BBQ Lamb Sasotie with Kasundi Relish
Roasted Spiced Vegetable Tortilla served with Balsamic Onions
Mini Summer Strawberry Tarts
About the Chef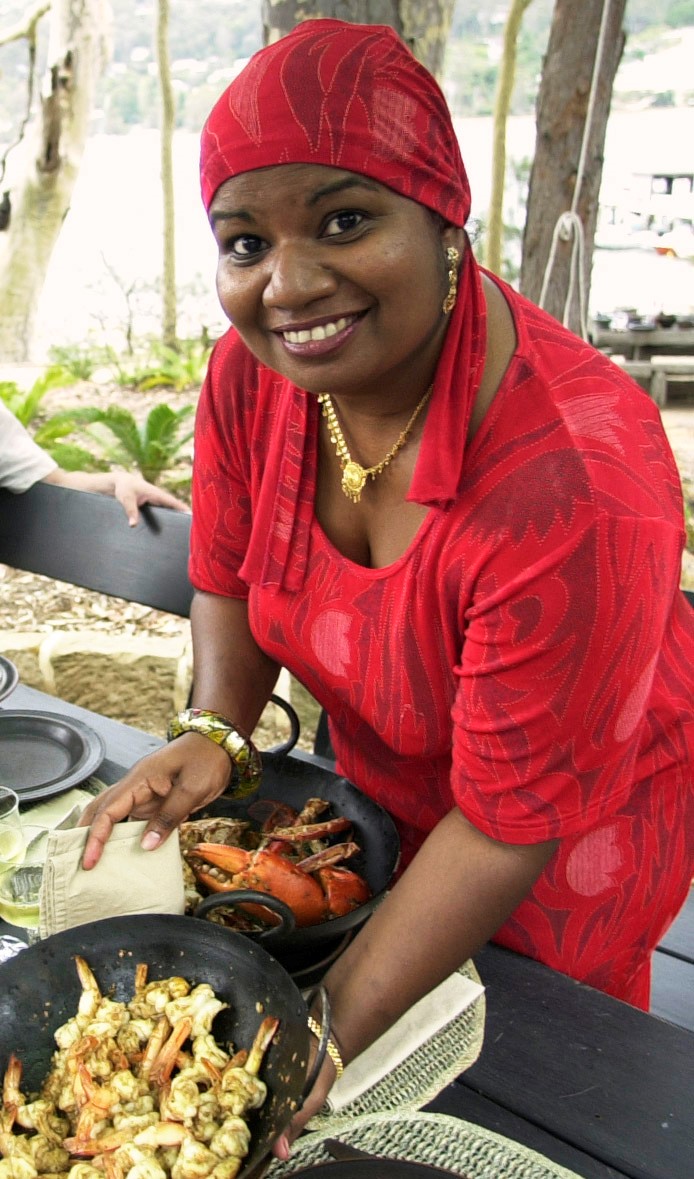 Growing up in Penang, Wanitha moved to Australia in 1982. She learned the art of cooking from her father, who he was the Head Chef of the Kedah Royal Family in Malaysia. Wanitha later started her own restaurant and cooking school. She is a real goddess of flavours and spice and with her engaging personality, her positive energy and her incredible knowledge of food she will show you the secrets of Thai cooking.
"Food is togetherness, creating deep connections between people, place and soil, linking the globe across time and culture. Cooking is history. Every dish tells a story." (Wanitha Tanasingam)
Important information to remember:



Please ensure that you wear closed in, flat soled shoes on the day.




Long hair must be tied back.




For safety reasons it is recommended that attendees wear full length trousers.




While every precaution is taken with regards to dietary requirements, we ask that you make yourself known to the instructor and class assistant on the day if you suffer from any food allergies. As the school is a collaborative space, we The Essential Ingredient cannot guarantee that some cross contamination of allergens will not occur.




Please arrive 10 minutes before the commencement of your class.



PARKING
St Margaret's Car Park at 417-435 Bourke Street, Surry Hills is a great option for parking with 80 spaces available and a 5-minute walk from the Cooking School. Casual parking rates after 5pm are $4/hour.
https://goo.gl/maps/wjqrwSKXBFF2 
oking Conditions:


Cancellations are non-refundable.


A change in personal circumstances does not entitle a ticket holder to return or exchange a ticket.


All bookings are confirmed on receipt of full payment and if a seat is available.


Reservations may be transferred to other classes with 30 days notice.


If you are unable to attend a reserved booking, you are welcome to send someone else in your place.


Reservations for classes and events close 30 minutes prior to the start time.


All classes and events require closed-in shoes.


The Essential Ingredient reserves the right to alter or cancel a class. Every effort is made to contact and accommodate guests in the event of alterations or cancellations. If a class is cancelled or moved to a date and/or time you are unavailable, you are entitled to a full refund.


Please inform staff of any dietary requirements whilst making a booking, we will attempt to accommodate you to the best of our abilities. Please contact us on 02 9555 8300.


Click here to view our full terms and conditions.

Proudly sponsored by:
 
About the presenter
The Cooking School at The Essential Ingredient Surry Hills offers a variety of cooking classes hosted by dedicated local and international chefs in a relaxed and friendly environment.